Manchin's junket comes as the U.S. scrambles to find ways to ease an oil market supply crisis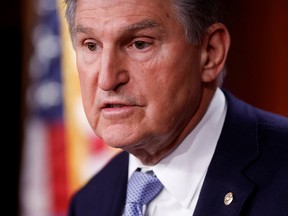 Article content
The mood among Alberta government officials this week bordered on cheerful as they played host to Joe Manchin, the Democratic senator from West Virginia and long-standing ally of the energy industry.
Article content
Alberta Premier Jason Kenney took Manchin on a tour of oilsands facilities near Fort McMurray on April 11, and then the senator attended an energy roundtable on April 12 with diplomats and business leaders from Canadian energy and pipeline companies.
The collegial visit from Manchin is a stark contrast with other headline-grabbing oilsands tours of recent years from celebrity activists, including  Jane Fonda, who visited in 2017, or dignitaries such as South African Archbishop Desmond Tutu, who called for a boycott of fossil fuel producers ahead of his trip in 2014.
Manchin's junket comes at a unique moment, as the U.S. government is scrambling to find ways to ease an oil market supply crisis that has been exacerbated by Russia's invasion of Ukraine.
Article content
In January, Canada exported almost 4.6 million barrels per day of oil and other petroleum products into the United States, about 56 per cent of all imports. Officials on both sides of the border have said they're looking for ways to boost those numbers to help the U.S. and its allies fulfil their energy needs.
Manchin, who chairs the U.S. Senate Committee on Energy and Natural Resources, was a vocal proponent of the now-defunct Keystone XL pipeline, which would have carried Canadian crude from Edmonton to Nebraska — a TC Energy Corp. project in which Alberta's United Conservative government invested more than $1 billion only to see it cancelled by President Joe Biden last year.
More recently, Manchin has called on the U.S. president to restore Keystone XL as a means to boosting domestic oil supply as gasoline prices in that country continue to rise.
Article content
"Senator Manchin is a powerful friend and ally for Alberta within the United States Senate, including with the Biden administration," Kenney's press secretary, Justin Bratting, said in an email this week.
Trudeau has given Canada's oilpatch the tax credit they asked for. Will it be enough?

Eric Nuttall: There's no time to waste — the world needs Canadian energy now

Chris Varcoe: Federal incentive for carbon capture puts ball back in Alberta's court
The U.S. senator also met with federal Associate Minister of Finance Randy Boissonnault in Calgary ahead of his oilsands tour.
"We've seen the shock in oil markets," said Boissonnault, referring to Russia's invasion of Ukraine and the subsequent sanctions imposed by Western allies. "So Senator Manchin and I had a conversation about energy security, about a continental energy strategy and about how can we make sure that there's a free flow of energy between Mexico, the United States and Canada."
Article content
Manchin is known for staking out relatively conservative positions on issues from climate change to voting rights, placing him at odds with most Democratic lawmakers, not to mention the Biden administration. Yet he currently wields a sort of veto power in Congress, since runoff races last January resulted in a 50-50 power split between the Democratic and the Republican lawmakers in the Senate.
Manchin was invited to visit by Alberta's premier and Energy Minister Sonya Savage after all three attended a major energy conference in Houston last month.
• Email: mpotkins@postmedia.com | Twitter: mpotkins